CAMP UTGARD
The Camp Utgard is situated at Prestegårdsstranda, a picturesque area with the beach and a large surrounding forest. The camp area is behind the Viking grave mounds and within walking distance to Midgard Historical Centre and the festival site at Gildehallen. A 10 minutes walk through the park, among the Viking burial mounds, to the heart of the Midgardsblot festival, Gildehallen.
Camping is only available with a festival ticket or day ticket. You have to be over 18 y/o to stay at the camp site. No pets allowed.
Camp opens on the 15. of August and closes on the 21.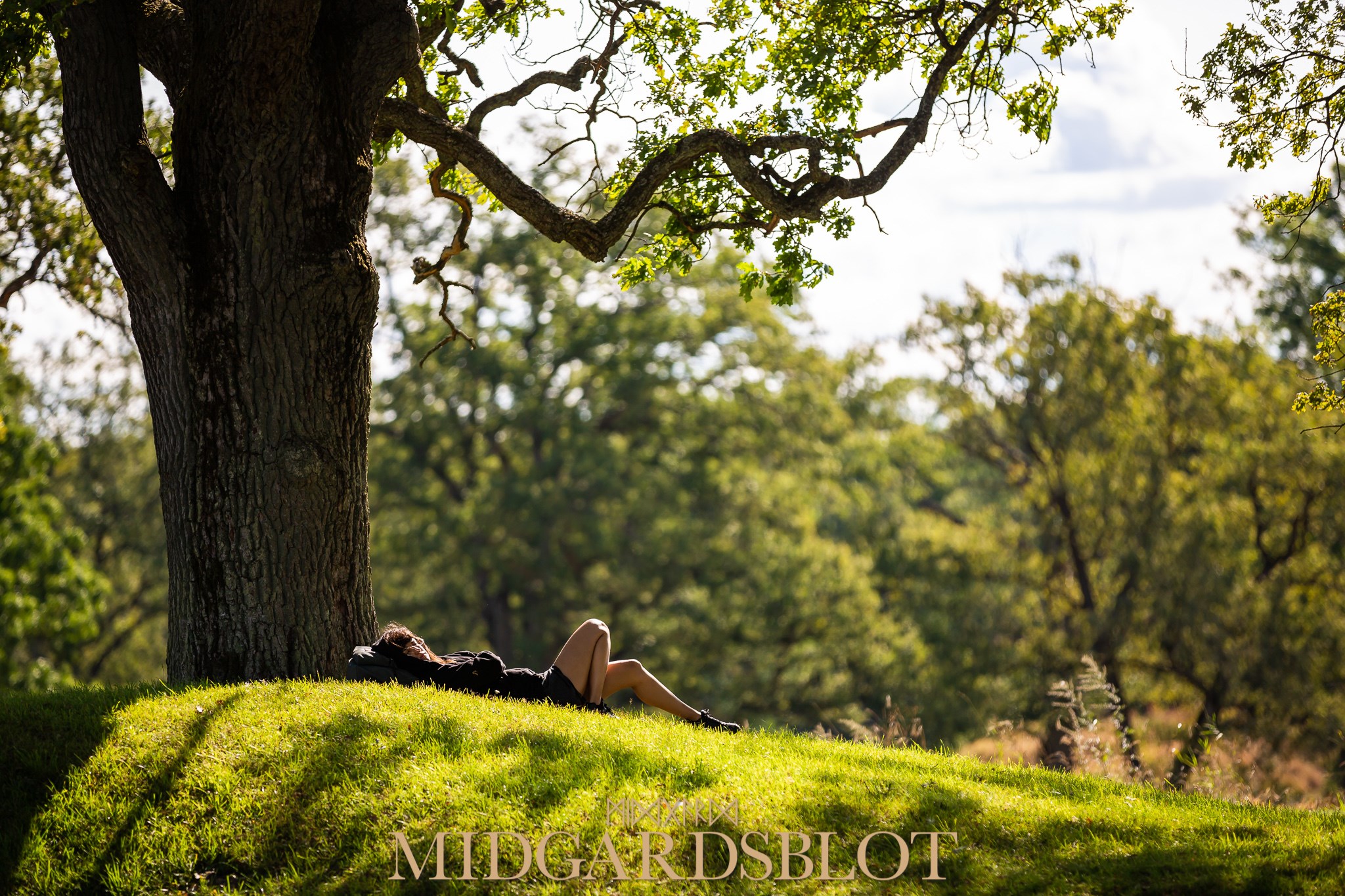 UTGARD CAMPING TICKETS
UTGARD TENT TICKET - 666,-NOK
The camps open on Monday 15th august and the tent tickets is valid for 1 tent space in the Festival camp for all days Monday 15th to Sunday 21st August. Check out time 15:00 CET. The tent ticket is only valid with a camping ticket and a festival ticket.
UTGARD CAMPING TICKET - 366,- NOK
Camping ticket for 1 person for all days Monday 15th to Sunday 21st august. The camp ticket is only valid with a festival ticket.
Example: If you are two people sharing a tent, you will need two camping tickets and one tent ticket.

You need the festival ticket/pass with your camp tickets to be allowed in to the camp. Camp Utgard is only for festival attendees.

You need to bring your own tent and camping equipment.

Max tent size is 4x4 meter.
UTGARD CAMPING RULES
1. What you bring into the camp site - you bring out.
2. Glass bottles, power generators, big sound systems, animals, any sort of weapons is NOT allowed to bring into the camp site.
3. No tents on access roads.
4. Use the trash bin / recycle containers.
5. NO OPEN FIRE is allowed on the Camp. This includes all kinds of bbq/grills, bonfires etc.
6. Follow the instructions given by the festival crew.
UTGARD CAMPING FACILITIES
Bonfires and grills: There will be public bonfires down at the beach and communal grills for cooking food.
Electricity: There is no power outlets at the camp site, but a charger station for phones/pads/laptops will be at the site.
Toilets and Showers: There are toilets with running water, and separate handicap Toilets at the campsite.
Showers are available: More details tba.
Hot food and soft drinks can be purchased at the camp! Also, the campsite offers water from various water stations
CARAVAN
We have no caravan camp at the festival, but we recommend these local hot spots:
Borre FamilieCamp
Phone: 33 08 23 90
E-mail: resepsjon@bfc.no
Rørestrand Camping
Phone: 33 07 33 40
E-mail: booking@rorestrandcamping.no
(Not a part of the festival camp, own charges apply.)